Fred R. Gildersleeve's name has been synonymous with photography in Waco since 1907.
Not even Gildy himself knows how many pictures he has taken of people, events and scenes in the past 42 years here, and he is still going strong.
Gildy has many "firsts" in his long record as a lens expert.
Gildersleeve and his ever-present assistant were familiar sights in Waco . For years, they putt-putted around the countryside by motorcycle and sidecar.
Later, the Model T Ford became the mode of photographic transportation.
One of Gildersleeve's most famous pictues, and one that 2,500 Shiners will never forget, was taken in the old Cotton Palace coliseum back in the 1930's. The occasion was a State ceremonial of the Shrine.
At that time, the Heart O' Texas Coliseum had been out of use for several years because the Cotton Palace had expired and there wasn't much demand for the vast old hall. Its rafters had become the perching place for a large flock of pigeons. Bats and owls also appeared there occasionally. Dust was thick amid the debris and droppings on the lofty rafters.
This was the setting for the Shrine gathering. A banquet was to be served the entireconvention crowd in the Coliseum one night and the potentates asked Gildy to photograph the scene.
Gildersleeve, incidentally, is a Shriner of long standing. Gildy and a local electrician worked all day the date of the banquet setting up flash powder gun s high around the Coliseum walls so that when the photographer pulled the trigger, his own flash powder would go off simultaneously with that in the extra trays around the huge room. An even, bright light would assure a clear photo of the big banquet.
Came banquet time and 2,500 Shriners filled the Coliseum, ranging along the banquet tables which completely covered the floor. Gildy set up his largest flash powder gun on the Coliseum stage and fixed his camera on the tripod.
The Shriners became still as mice, waiting the picture.
Gildy looked under his black-hooded camera, focused the image, braced himself and pulled the trigger.
WHOOO-O-O-O-OOM!
The powder flash was terrific.
Window glass shattered in scores of the upper widows and clattered down.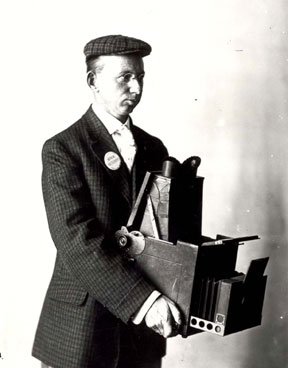 Back
Next
---
Pigeon droppings, dust and feathers drifted off the rafters.
The entire Coliseum was fogged in an instant with powder, smoke and debris.
Gildy and his electrician friend scooped up their paraphernalia and ducked out the back door of the stage.
When the Shriners were able to see again, they found their banquet tables coated with debris from the rafters. Serving of the banquet was delayed a considerable while, pending frantic clean-up efforts.
But the photo that Gildy took in the split second before the dust and feathers fell is as clear as crystal. After the shock had worn off the potentates somewhat, they liked the result.
A tiny little fellow, Gildy in his youth was a renowned racing jockey in Missouri , riding mostly mules in the county fair meets. That was a short career, however.
When Fred Gildersleeve was 18, in Kirksville , Mo. , his mother gave him a diminutive 1898 model Kodak—a box type camera, which incidentally, will still take a good picture. It started Gildy on his way.
There was a State Normal School in Kirksville . Gildy used his Kodak to snap pictures of students. He developed them, printed them and sold 'em for 25 cents apiece. There was one hitch. He could only work on sunshiny days because the printing was done by sunlight on solio paper.
"I use to make a box of that solio paper," Gildersleeve recalls. "I ran the prints through a gold solution bath to give them a rich, warm tone, then through a platinum bath to make the images permanent." Today, a chemical fix [mix] makes that part of printing much easier.
Gildersleeve kept experimenting and learning. He went to photography school in Effingham , Ill. , worked a year and a half in Chicago . Between times, he made the acquaintance of Theodore Roosevelt during the Spanish-American War.
Several years after that conflict Gildersleeve and his mother were in St. Louis when Teddy Roosevelt was there for a political convention.
"Look, Mother, there's Teddy," exclaimed young Gildersleeve.
"Son, don't call him Teddy," his parent remonstrated. "That's Mr. Roosevelt."
Gildersleeve still gets a laugh out of t he memory. "I said, 'Come on Mother,' and led her up to T. R. and introduced her. She was bowled over when she discovered he knew me."
Gildy had occasion to photograph T. R. on his two visits to Waco later.
The veteran photographer has a large file of his old glass plate negatives--many of them as clear and sharp as the best modern photography. He say says, and can prove it, that flashlight bulbs cannot hold a candle to oldtime flash powder for lighting a scene or a group for picture taking. But he quit using flash powder years ago.
Gildersleeve's principal hobby has always been hunting and fishing. He has sampled both in all the major wildlife centers of North America, from Alaska to Panama , and everywhere in between. He will drop any chore to go off with his rod and reel or his shotgun with boon companions.