For Waco residents who were children in the 1950s, few names conjure up such immediate recognition as Zeebo the Clown, who had a children's show five days a week on KCEN-TV.
Zeebo's comedic shtick entailed having children come forward to draw a squiggle on a large easel, and the clown would then turn the scribble into a picture — known as a "Zeebo-gram."
An announcer helped marshal the children for Zeebo, who worked silently save for a duck call in his mouth that stuck out like a cigar and was painted to resemble one.
"That duck call could either be expressive or an exclamation," recalled George McClellan, 68, of Bellmead. McClellan is the son of Zeebo and keeper of his legacy.
Although Zeebo — Bowen W. McClellan — died 20 years ago, his memory is sustained by his legions of fans and his son.
Known as "Mac" or "Bo" to his companions, Bowen W. McClellan was born in El Paso in 1907 but grew up in West, where his family had owned property since the Civil War. He first started drawing at age 10, studying with retired art instructor Emma Humphreys of Baylor University.
After high school, Bowen studied at Southern Methodist University, the Dallas Art Institute and eventually the Los Angeles Art Institute, seeking his fortune as a commercial artist and portrait painter.
In the late 1920s and early 1930s, McClellan painted posters and banners for movie houses and vaudeville acts. He also worked part time in a department store hand-lettering tags and signs.
As a freelance commercial artist throughout the 1940s, he designed several corporate logos, George McClellan said.
By the summer of 1950, however, Bowen McClellan was back in Waco. Eventually, he was hired as a set builder and resident artist for KCEN-TV, which went on the air in November 1953.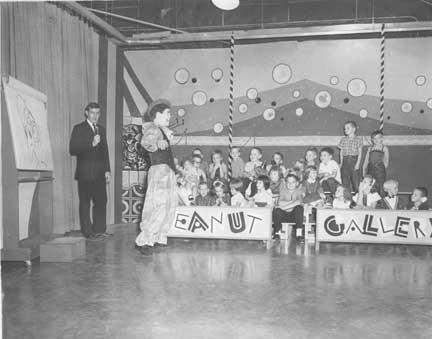 He did the hand-lettering for TV advertisements and news programs as well as drawing the weather maps, George McClellan recalled. The elder McClellan worked in a variety of functions at the station until his retirement in the 1970s.
The genesis of the "Zeebo-gram" was a game the artist played with his sons, George and Jack, challenging them to come up with a mark that he had to fashion into a picture.
"He had to visualize the picture in its finished form, but somehow make it look like he was struggling," he said of his father's TV technique.
George's late mother Sara, who married Bowen in 1932, gets the credit for coming up with the name Zeebo. Since he was known as Bo, she thought some kind of French twist on "The Bo" would make a swell clown moniker.
"He was a part of the culture of Waco in the 1950s," the younger McClellan said. "He would have liked to have known that folks remember him to this day."