It was the time we remember as the "end of World War II," 1944-1945 the "great war" ended.
I was born in 1936 in Waco. I had gone to Texarkana with my family, where we spent the "war years" while my father served as a captain in the U.S. Army at Red River Ordinance Depot.
We traveled mostly by train. It was a time of "rationing" of almost everything. Gasoline, sugar, shoes and leather products, etc., etc. We returned to live in a cabin on the old Lake Waco. We lived a "life in the country."
Lake Waco, a constant-level lake built in 1930, was relatively small and shallow. Our amenities were pretty limited. We had electricity and a shallow well. We hauled water in five-gallon bottles which were filled at a hydrant provided "free" at Progress Laundry and Cleaners on Franklin Avenue.
Our telephone was a wooden instrument with a crank on the side on the wall in the kitchen. It was of course "party line." We had a fan for "air-conditioning," a boat house, big oaks with a tree house, grape vines, we had a few pigs, and there was a large 10 acre cotton field just a few yards from our house.
Now Lake Waco as mentioned was shallow. To reach our house from Waco you would drive west on the Valley Mills Highway (Highway 67) going down a steep hill to a two lane bridge to cross the lake. Highway 67 is now Highway 6. Now days the road is known as just Valley Mills Drive and as it goes down the hill it becomes what we know as Lake Shore Drive.
The old dam was to the North (far right) from the Highway. The hill was terraced about that time right after the war to grow fruit trees and grapes for the 7th. Day-Adventist who lived at the top of the hill at a place they called Mt. Carmel.
A prominent peninsula was jutting out in the lake and was known as "Lacy's Point." It was on Speeglville Creek that the Lanning family lived in a wood-framed cabin with a big porch on the south and east sides. It was to the west that a family of German immigrants named Paar lived and where I got an "education" watching the day long procedure of slaughtering and processing a hog!
The point of my story however is to tell you about that "cotton field." I was fascinated by the scene of a large black man driving a team of two mules plowing that field so close to where I lived. As he came close to where I stood he called down, "you want a ride?" This big black man reached down and set the sandy haired white boy on the bench besides him. He said "gee haw" and the mules moved forward. Not much was said. After a couple of "rounds" in the 10 acre field I thanked the big man who had told me he was Conrey (Connie) Miller.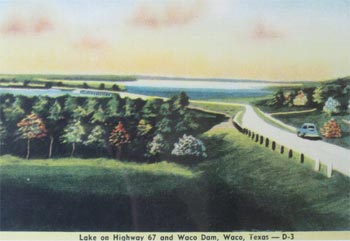 I told my folks about my "adventure" and my dad suggested that we drive over to the Miller's house in his 1936 Ford. It was across the Highway. up on a hill. My dad said "I want you to meet Mr. Miller's wife Henrietta." They lived in a small wood framed white house with a porch across the front. When we arrived they came out on the porch. While we were visiting I noticed a small flag with a gold star hanging in their window. I don't remember exactly what was said but I vividly recall the expressions of PRIDE in their faces. Pride in their son Doris.
I will never forget that day.
Their son Doris Miller was a true Hero! He was one of the first men recognized that day, "a day that will live in infamy," Dec. 7, 1941 when the Japanese attacked Perl Harbor. Doris received the Navy Cross from fleet Adm. Chester Nimitz "for distinguished devotion to duty, extraordinary courage and a disregard for his own personal safety." His picture was placed on recruiting posters across the country. He was sent on a tour to help sell war bonds as well. Later, while was on duty on the USS Liscome Bay, the ship was torpedoed by a Japanese sub and the carrier escort vessel sank in 20 minutes and he and 645 other sailors perished.
Today, as I look out across Lake Waco I see a source of abundant water for this city not only for today but for many years to come. A new and much larger Lake Waco was completed in 1964 and it too has been raised an additional seven feet. But beneath the waters is the place in the country where my family lived so many years ago. It is also the place where Connery and Henrietta Miller lived as well. The place is gone. But the memories of them and of their son live on in my heart.
Wilton Lanning Jr. was the long-time CEO of Padgitt's and founding director of the Dr Pepper Museum and Free Enterprise Institute.